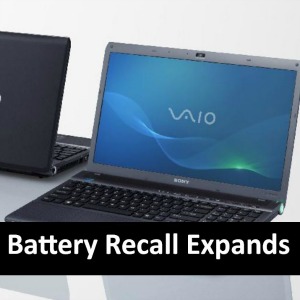 According to the Consumer Product Safety Commission, a Sony VAIO battery recall has been expanded. It involves Panasonic lithium-ion battery packs installed in 18 models of Sony's VAIO Series laptop computers.
Sony has expanded the number of affected battery packs under this recall from a previous 2016 recall. All total 24,000 units are affected.
The CPSC says the Panasonic battery packs were manufactured with the laptop and battery packs were sold separately or installed by Sony as part of a repair.
The lithium battery packs could overheat and cause a fire.
Panasonic battery packs included in this Sony VAIO battery recall have model number VGP-BPS26 and part numbers 1-853-237-11 and 1-853-237-21 printed on the back of the battery pack.
If you have one of these units you are asked to immediately stop using the recalled battery packs, power off the laptop, remove the battery and follow instructions to obtain a free replacement. Until a replacement battery pack is received, consumers should use the laptop by plugging in AC power only.
Battery packs previously identified as not affected by the June 15, 2016 recall are included in this expanded announcement.
According to the release the computers were sold at a variety of locations:
Best Buy, Sony retail stores, other consumer electronic stores nationwide and online at www.store.sony.com and other websites from February 2013 through October 2013 for between $550 and $1,000 as part of Sony VAIO laptops and for about $170 for battery packs sold separately.
You are asked to contact Sony directly for replacement. Sony Electronics customer service center toll-free at 888-476-6988 from 8 a.m. to 12 a.m. ET Monday through Friday or 9 a.m. to 8 p.m. ET Saturday and Sunday. At this writing there is no updated information on the Sony website regarding this recall. Their November 2016 update is here .
The CPSC News Release for this recall is here which outlines all of the models affected.