Microsoft Office 365 Solutions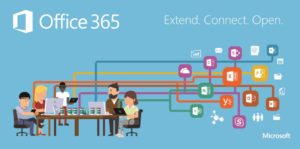 Your business today needs anywhere access to programs on any device.
Microsoft Office 365 provides you and your staff with applications they already know, so there is no need for extensive training or retraining.
Contact us today for a FREE TRIAL of OFFICE 365 to see first hand how it can help your business grow.
Download our Office 365 flyer.
You have staff in a main office and at several remote locations either in town or across the country. Or you have vendors you regularly work with and you need to have a collaboration solution.
With Office 365 You get the same familiar interface your employees used to with traditional Office applications on their computers. Documents display the same way they do in the desktop apps. And the files can be viewed and edited on most mobile devices.
You access the programs either through your web browser or native software you install on your computer.
Access is also available through Google Play or Apple apps for your tablets and smartphones.
Microsoft Office 365 is designed with security in mind.
All Office 365 applications are accessed through encryption so that if a transmission is intercepted by someone without authorization, they won't be able to read it. Antivirus signatures are kept up to date. Security measures are applied in accordance with the Microsoft Trustworthy Computing initiative.
The services are all hosted in the cloud on Microsoft servers. There is no on-site server anymore to maintain and manage.
Office 365 will improve your business productivity and collaboration.
Microsoft Office 365 applications include:
Microsoft Word for word processing
Microsoft Excel for spreadsheets
Microsoft PowerPoint for presentations
Microsoft OneDrive for online storage
Microsoft OneNote for notes
Microsoft Skype for Business
Microsoft Sharepoint
All you need is a computer, tablet or smartphone and a connection to the internet.
Microsoft Office 365 benefits include (but are not limited to):
Predictable Monthly Costs- You pay a set fee each month for the services based on the total number of users who use the system.
Email storage – 50GB of storage for current and archived email.
Data security – Microsoft is responsible for content and data security compliance with state of the art legal, regulatory, and technical standards.
All in the cloud – Safe, it can operate anywhere so it also fits in with your disaster preparedness planning in case of emergency.
Single Sign on – Users access the system using a username and password.
Latest Version – Microsoft is constantly upgrading the platform, you always get the latest software version for your devices.
Office Web Apps – Allow you to access internet based versions of Word, Excel in your web browser or through mobile device apps.
Administrator Controls – Your administrator has total control over users through a web based interface.
No licensing involved – Microsoft licensing for their products that are locally server-based can be a headache. They can also be expensive.
Interested in a FREE TRIAL of Microsoft Office 365 ?
Contact us today, we can help.