Hard Drive Upgrades
Your computer hard drive is running out of space. What do you do?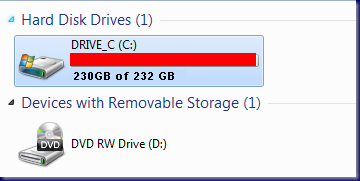 By upgrading your desktop or laptop hard drive you can get some extra life out of an old machine (or resurrect a dead one).
You can't simply remove your old hard drive, then install a new one.
Our technicians determine the proper replacement for your particular computer.
Data must be moved from the old drive to the new drive. In most cases the old drive will need to be cloned to the new drive. One the hard drive is up and running The computer booted up to make sure it's running properly. We'll give you your old drive, or if you want us to we will destroy the data and recycle the drive.
Changing out a hard drive in a desktop is easier than replacing a drive in a laptop. The laptop pretty well has to be dismantled to get to the hard drive.
Then the parts all need to be put back together. After that the laptop needs to be thoroughly tested to make sure it is operating properly.
Our technicians can not only  help you with a laptop or a desktop, we can also help you upgrade your PlayStation system Hard Disc Drive (HDD).
We can also help you add additional hard drives to your desktop for more storage space.
Contact us today, we can help.