Business IT Technology Solutions
Madison Geeks has been providing professional IT  Business Solutions for the Madison area since 2007. We take pride in our business technology relationships.
There is no one-size fits all solution to today's business challenges so those solution options will indeed vary. We take the time to sit down with you to discuss your IT situation, review our findings and make sure your needs are being met.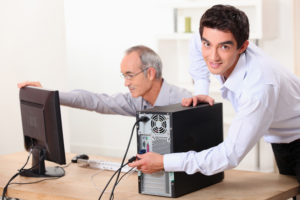 Using Madison Geeks as your outsourced IT partner, you experience:
Less Downtime – Faster resolution leads to more productivity.
Fewer Day-to-day Issues – Proactive maintenance helps prevent issues from occurring.
Flat-Rate IT Budget –  An established maintenance contract lets you know your monthly expenses a year in advance.
Infrastructure Protection – Keeping your network and devices safe and secure.
Business Continuity – Efficient backup and disaster recovery methods and best practices.
A Better Night's Sleep – Knowing you're in good hands 24 hours a day, 7 days a week.
Quality work at a fair price. After all we're in it for the long haul.
IT Consulting
We start off by analyzing your current technology situation. Based on what we find, we develop a variety of best approaches to resolve your needs and issues.
Managed Services
Business technology consulting
Hardware support
Hardware install upgrade repair
PC and Server troubleshooting repair and maintenance
Physical cleaning
Equipment inventory
Software support
Operating system and software installation and upgrades
Server solutions, both Windows and Linux
Email/antispam
Web server/ database server/ virtual server/ remote access
License inventory and monitoring
Microsoft Patch management
Backup and Recovery
Security backup solutions
Data transfer
Data recovery
Networking
Network troubleshooting support and repair
Network design and management
Network security
VPN firewall / IPS /  IDS solutions
Internet content filtering
Shared internet solutions
Remote access
Wireless access points
Call today to setup an on-site evaluation.
Mitch Henck talks about Madison Geeks on The New Mitch Henck Show Podcast