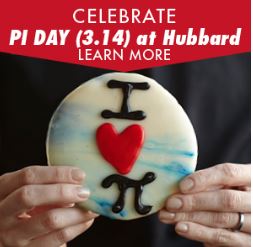 We Geeks join our fellow geeks around the world in celebrating PI Day today (March 14th), 3-4 you know.
Pi Day is named in honor of the number itself, the ratio of the circumference of a circle to its diameter, which rounds up to about 3.14 if you're an average geek.
If you're a mathalete, you would actually say it's about 3.14159 (but goes on for at least a trillion more digits) if that's your thing.
On this annual celebration of the mathematical constant π (The Greek Letter) we thought we would bring you links from around the web to Pi related geeky information. Well, information plus a few recipes. For some reason we relate pie to Pi.
Here in the Madison area, the Hubbard Avenue Diner in my current hometown of Middleton, Wisconsin goes all out. They have their annual Pi Day Special today with pie by the slice for $3.14 all day. Plus, they have a special commemorative t-shirt that goes on sale today and when they're gone they're gone. All year round they have "I ❤ π" t-shirts and bumper stickers for sale too. I have not been paid for the promotion here. I just love their pie.
Other geeky Pi links for the day:
If you're the the Chicago area, 21 Chicago bakeries and restaurants celebrating Pi Day – Chicago Tribune
If you bake, 3 Fabulous Pies for Pi Day – Mercury News
For the mathalete:  Pi Day puzzles that will leave you pie-eyed – The Guardian
Pi Day Mashes up Math and Munchies – Geekwire
USA Today – Everything You Need to Know About "PI Day"
NASA – Pi in the Sky Challenge (For Grades 4 – 12)
Pi Day Resources – Pi Day Resources for Your School – PBS Education