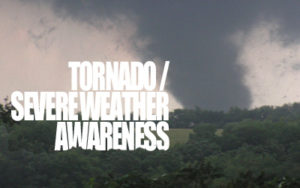 Disaster planning is top of mind here in Wisconsin this week as it's Tornado & Severe Weather Awareness Week as declared by Governor Scott Walker.
Wisconsin Emergency Management encourages everyone to be ready for possible tornadoes and severe weather.
The state averages 23 tornadoes annually, according to the National Weather Service. In 2016 there were 16 tornado touchdowns in the state.
Do you have a disaster recovery plan in place if your business were to be destroyed or damaged in a tornado? What about flooding from heavy rains?
Servers, desktop computers, laptops and wireless devices can all be affected.
Every business needs a recovery strategy to anticipate the loss of one or more of the following system components:
Computer room environment (secure, backup power supply, etc.)
Hardware (networks, servers, desktops and laptops, wireless devices and peripherals including printers)
Connectivity to an internet service provider (fiber, cable, wireless)
Software applications (electronic mail, data, resource management, office productivity, etc.)
Data and restoration
Your business data should be backed up as frequently as necessary to ensure that, if data is lost, it is not unacceptable to business operations. Severe weather can damage or destroy your business, causing irreparable damage. In the case that your employees can't get to the office, or if a new temporary workspace may be needed altogether, make certain critical business files and data are saved to an external source such as a cloud storage system so no data is lost.
Your IT infrastructure is critical. You need to have strategies in place to restore hardware, applications and data quickly to stay in operation.
We work with a number of small businesses on disaster planning to make sure they have redundancy in place in the event of catastrophe.
Make sure that you document an IT disaster recovery plan as part of your overall business continuity plan. Disaster planning and recovery is an important process we can help.
Related Links:
US Government IT Disaster Recovery Planning
https://www.ready.gov/business/implementation/IT
Wisconsin Tornado and Severe Weather Awareness Week
http://www.weather.gov/mkx/severeweatherawarenessweek2017
http://emergencymanagement.wi.gov/news/2017/Tornado2017Media_Packet.pdf